First aid training delivered in your workplace
Save money and time with group training in a location of your choice.
Benefit from having access to an SR8 Trainer for the day. Their expertise ensures they will be able to answer questions relating to the specific compliance needs of your organisation in confidence.
Choosing an In-house training solution means that you are in control of the schedule – you choose the start time and duration of the session to suit your needs.
By hosting training on your premises your staff will not incur the travel costs associated with attending a 'public' session.
First Aid at Work
We offer First Aid and Health & Safety training in the workplace. Our training practitioners are highly experienced, with backgrounds in, and extensive knowledge of, the Emergency Services, NHS, Healthcare, Corporate and Government areas.
Their specialist knowledge helps us to deliver an engaging and interactive learning experience. One in which our students will be taught how the skills learnt can be applied to real world situations ensuring they are well-equipped to manage a variety of scenarios.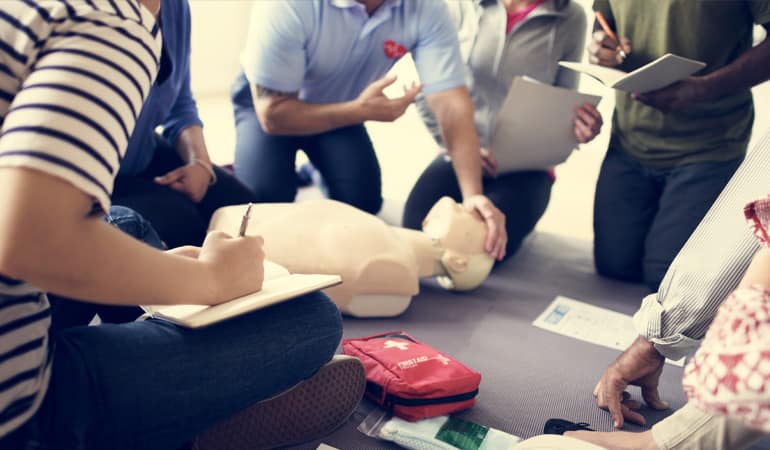 Our commitment to quality and standards
All of our courses are regulated by Qualsafe, RoSPA, CPD, IIRSM and IATP.
A wide range of courses
We have a wide range of training courses which we can tailor to meet the needs of your team and workplace.
Bespoke packages
We can also tailor courses to your specific needs – contact us to find out how we can help you.
ONSITE MEDICAL TRAINING
Training Courses
We offer a wide range of first aid and health & safety courses to help you keep your staff safe at work.
PRODUCTS CHOSEN AND USED BY PROFESSIONALS
Shop for Medical & First Aid products
SR8 Group also supplies the medical industry and health professionals with essential first aid and occupational health products and supplies.